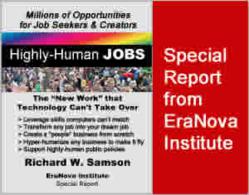 MONEY: While employment hangs back, a whole new form of work is straining at the starting gate. That's the conclusion of a special report from EraNova Institute. It documents an emerging shift to the next level of employment beyond today's service and knowledge economy, non-automatable work in the "highly-human economy."
We don't have to wait for these new jobs to materialize, according to the report. Millions may be created right now by people who see the trend and follow recommended steps.
The report is available from EraNova's Highly-Human Jobs site: http://highlyhumanjobs.ning.com.